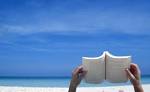 Book Miles
Chris Mills
Have I ever considered the miles a book may have travelled before it reaches my hands
What the dickens...it's Mr. Dickens
Colin Fisher

Whereas English has evolved throughout the centuries, adapting itself to changes within society, renewing itself constantly, Spanish has remained static...
How Much Longer?
James Campion 3.20.20
How long can we endure curfews? Restrictions? Isolation? - There is no America without money flowing freel. Freedom? This is what we call buying stuff.


The Past
Brian Appleton
My past is like an old friend whom I have had to abandon by circumstance and time and distance.



Adam Schlesinger - 1967-2020
James Campion
Where do you start to encapsulate an artist who was everywhere and nowhere? Adam Schlesinger loved song. He loved songwriters. He loved talking about songwriting and songwriters.
Living with a Liar: My Experience with Dyslexia
Alice Ohlandt
Learning how to work with, instead of against, my trickster, dyslexia