Mad and starving I watch the starry dynamo in the machinery of Night
KAB 7.15.19
What is revealed in my hormone soaked body that seems to constantly yearn, always yearning for something, sometimes uncontrollably
The Enemy Swoops in
Sam Hawksmoor
There was no warning this time. The enemy bomber swept in from the east flying low, spilling its deadly guts of cluster bombs onto the street market. Saska was running, heart in mouth, a hundred paces from the nearest underground shelter. Cat, her precious Blue Lynx was ahead of her, ears back, nearly sick with panic.

A Prince's Wedding, a Young Man's Birthday 7.11.19
Michael Chacko Daniels
On a sunny day of the coldest February in 70 years, I skirt around sidewalk poop—dogs' and humans'—as I walk down Pine Street towards the post office.
Genie
Abigail George
"What's your name, angel?"
"Whatever you want it to be, sir? You looking for companionship?"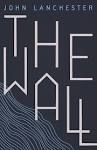 The Wall by John Lanchester
ISBN: 978-0571298709
F&F publishers 2019
Sam Hawksmoor review
The Defenders are the only ones keeping the UK safe from outsiders who might steal their jobs or food or worse – breed.