A weekend in Helsinki
Aurelie Montfrond
I was taken aback by its calm serenity. There was something beautiful about all of this.


Venezia
Sam North
I am not sure whether you go to Venice for the history or romance, but we all have reasons to go there and go there one must.
The Other Baños
Tyrel Nelson
We finally pulled into a small, dusty lot in front of a giant, light-blue church, which sat atop a small hill a few miles southwest of Cuenca.
Round Trip to Hel
Anita Sheard
I can honestly and truly say that I have been to Hel, and back.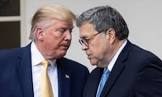 William Barr's Criminal Syndicate
James Campion 7.1.20
The Systemic Anarchy of The Final Days of Trump - In the past year, Barr has flouted the very foundation of law because in the certain circles Barr and Trump are the law.
The Untouchable Triumvirate
James Campion 6.19.20
Military, Religion, Police - as a democratic premise it is horrifying that these three institutions have been mostly above oversight or even simply questioning


Things that I think about when I water the hydrangeas.
Is sudden retirement about to happen to you?


Reading New York
Matt Allison
A couple of months ago after years of knowing of this historical novel, I had Naked Lunch in my backpack. Waiting for a subway in Queens I opened this novel and read the first few pages...


Roman Holiday
Gabriela Davies
Life is too short to work a full year with no holiday, and sick days just don't do the trick.
Happiness Manifesto
Julia Reynolds
Today I spent a sunny morning doing a bit of housework, picking flowers from the garden to brighten up the house, then walking down to Parangha Beach, Mykonos, Greece for a chilly swim and a little time to myself for reflection.