Anton
Abigail George
'I have a secret.'
'So, tell me, what's your secret, beautiful?'
'Well, it's my birthday and I've come out with a girlfriend to celebrate.'
Block Island Here We Come!
Victor Castleton
Missing the Ferry it is not fun. The ferry-boat, like a giant small country, moves away slowly, and their citizens stationed on deck, are completely unsympathetic to your misfortune.





Home Upon a Many Summers


Victor J Castleton
Once upon a ninth birthday ...
In Search of Tranquility
Martin Green
What did he want? Paul Lerner asked himself. It was a rainy afternoon in January. He was preparing to take his afternoon nap.
Endtime - Panic in BC
'In life we have three choices: the discipline of self-sacrifice, the congregation we choose to be with, the laws we choose to obey.'
The Word according to Prophet Arnold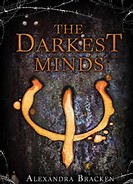 The Darkest Minds
by Alexandra Bracken
Quercus Childrens Books
Sam Hawksmoor review
If ever there was a perfectly scary Trumpian YA novel – it's this one.