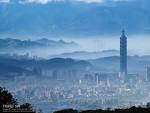 Best of Taipei by Metro in 5 days
Gisele Ribeiro
Taiwan is a great option to get exposed to Chinese traditional culture without too many bureaucratic restrictions. It is also a valuable gate to Asia as well.


A Walk on the French Side
Jane Anderson
The Route is the French leg of the famous Camino, St Iago de Compostella becoming St Jacques. It starts at Le Puy en Velay with a rich history and architecture that overshadows the humble pulse.


Thailand: 5 days by boat & metro.
Gisele Ribeiro
Our first adventure riding the metro in Thailand was getting to the vibrant Ratchada Night Market, finding a vast variety of cheap and exuberant clothing and all sorts of exotic merchandise.


Joined at the Hip
Barry Burgess
The Theft of our Constitution
The majority party for over forty years has indicated they are interested not in saving democracy, rather, they are willing to take it apart;
How Bad Can Trump's Tax Returns Be?
+ Readers Responses 25.05.19
- James Campion
Maybe he paid no taxes at all. We can think anything is in there, because he is going to great lengths to keep the proof from us.


A New Broom in Spain
James Skinner
The results, to a certain degree, have stunned the nation as such a severe swing from right to left was not predicted in the various polls prior to the elections.


Shades of Psychedelia
Guy Edwards
It is often said that if you can remember the 1960's you probably weren't there. This I suppose means that for some, the whole or part of the decade was lost in a blur of drugs, promiscuity, pop music and peace demonstrations.


Esclave in Utero
James Campion
A Users Guide to Life After Roe v Wade Goes Down - Women's bodies will affectively be considered slaves to the state. Abortion will result in jail time.


Starstruck
Claire Grulick on Mauna Kea Hawaii
"I think that's the tail right there"
"I thought that was the belt?"
"No, no. Because that's the Little Dipper"


15 Skittles
Sydney Moreano - living with diabetes
A medical timeout in volleyball is just three minutes. And unless a player's injury is painstakingly obvious like a broken ankle, most referees do a lengthy interrogation to find out if the timeout is medically necessary.


Observations on Life & Surviving it
Martin Green
Celeste says she's in touch with my guardian angel and can give me a tarot reading ...