Majuli: The Assamese Wonder Explored - Sean Lee
As a passionate traveler willing to explore the least charted corners of the world, you could head for Assam's Majuli (India) this year
After Hours at the Colosseum
Samantha Connors
Silent and reflective, we stood there. Solitary figures against a glorious backdrop of antiquity—like lonesome time travelers.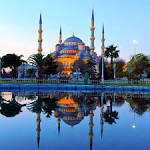 Best Places to Visit in Turkey
Nicola Williams
Turkey offers diverse tourist attractions including the ancient ruins of Ephesus and the luxurious beach resorts along Aegean Sea.
Tagaytay - Paradise Found
Fred C. Wilson III
Philippine resort city of Tagaytay is as close as you can get to paradise...



The Devil Made Me Do It
Dean Borok
Bill Cosby is now revealed to be incapable of doing what he has insistently been advising the younger generation to do – pull your pants up.
Mike Nichols 1931–2014
James Campion on The Graduate
I hate endings. Never liked them; in books, films, sometimes songs (especially fades – what the hell is that?), whatever ...
Spain's Watergate
James Skinner
Corruption in Spain has taken on a new dimension that could threaten the government + Catalonia Result
Dear Dave
Tom Kilcourse
Dave asks me to trust his government with the economy and not to threaten the remarkable economic progress being made. I feel obliged to reply.
Video Kingdom
Dean Borok
We're living in Video Kingdom, with drones flying over volcanos and speed demons racing motorcycles down bobsled tracks wearing a helmet camera



Requiem for a Sri Lankan Christmas
Jude C Perera
For the past two decades, maybe more, I have been haunted by the ghost of Christmas past.
Values
Tom Kilcourse
Over forty years ago Milton Friedman declared that corporations have no social responsibility...
Berlin, The Old And The New
Norman Wolfer
The Berlin of 2014 is a mixture of the unchanged and the ever-changing.
10 Reasons to Participate in Cultural Festivals
Alina Jersey
Cultural Festivals are meant to celebrate the heritage and culture of the hosts.
An old fashioned Hero
Leroy B. Vaughn
I'm sure by now that readers are aware of the lone wolf terrorist that attacked the Canadian Parliament on 10.22.14